Relax in a Fresher, Healthier Bathroom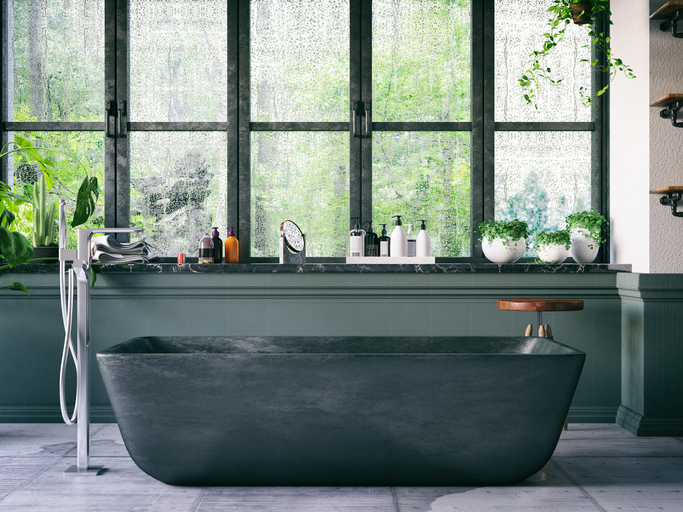 You may think about the health of your diet or exercise routine, but how about the health of your bathroom? Bathrooms can be a leading culprit of unhealthy chemicals, be it from cleaning or bathing products. If you think your bathroom could be healthier, take a few tips on how to make it so:
'Scent-sing' a change.

Greenamerica.org is the latest of the growing legion calling for a reduction or complete elimination of chemical air fresheners that can contain dangerous ingredients like dichlorobenzene, naphthalene and formaldehyde.
Conventional scented candles aren't much better. Many are made from petroleum-based paraffin wax, which releases carcinogenic soot when burned. Others have lead-core wicks, which release toxic lead into the air, which is linked to respiratory irritation.
The solution?
Avoid candles and air fresheners with synthetic fragrances. Instead, leave out a bowl of baking soda to absorb odors, and switch from paraffin to 100-percent beeswax or soy candles with cotton wicks.
Natural cleaners.

The folks at wellnessmama.com recommend creating or obtaining natural cleaners to make quick work of cleaning bathrooms. For instance, mirrors can be cleaned with a 50/50 vinegar and water mix in a spray bottle and wiped with old rags from cut-up t-shirts or newspaper.
While paper towels leave a lot of residue, microfiber cloths are best for cleaning without using any chemicals at all. Clean with a wet one, and polish with a dry one.
Just add plants.

According to longevitylive.com, the large amounts of moisture in your bathroom are ideal for plants. They will repay you by reducing carbon dioxide and releasing oxygen. Plants can even reduce dust in the air by 20 percent.
Gold on mold.

At the same time, Forbes' Jamie Gold points out that moisture you don't remove can turn into mold, which is unpleasant to breathe. It's also extremely unhealthy for individuals with respiratory and immunity issues.
She suggests adding sensor vent fans to help prevent mold buildup by removing moisture from bathroom air. Gold says they even work when you're not home because they turn on and off based on the humidity levels in each bathroom.